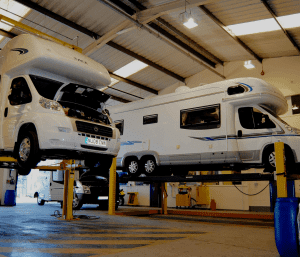 Explanation of what a Class 5 MOT test ?
To comply with the law, commercial vehicles with a weight between 3,000 and 3,500 kilograms must undergo an annual Class 5 MOT test. The government sets minimum safety and environmental standards for vehicles
, which the MOT test ensures compliance with. The test covers a wide range of components, including brakes, steering, suspension, lights, and emissions.
Importance of  MOT Class 5 test for vehicle safety and legal compliance
The Class 5 MOT test is crucial for ensuring the safety of commercial vehicles and their passengers. It helps identify any faults or defects in a vehicle that could pose a risk all. Moreover, it is a legal requirement for all commercial vehicles to undergo a MOT test annually for road traffic regulations.
Overview of what the blog post will cover
This blog post will provide a comprehensive guide to MOT 5 class testing, important. It will cover tips for choosing a reliable MOT test centre, preparing your vehicle for the test, passing with flying colours.
What is a Class 5 MOT Test?

Explanation of MOT tests and why they are required

Definition of 5 Class MOT tests and what vehicles they apply to

Requirements for passing a MOT 5 class test.

Cost of a MOT 5 Class test.
In the UK, MOT tests or Ministry of Transport tests are compulsory to guarantee that vehicles on the road meet minimum safety and environmental standards. Most vehicles over three years old require these tests, and you must conduct them annually.
This tests specifically apply to private passenger vehicles with 13 or more seats. As well as ambulances with more than 12 seats. These types of vehicles require more stringent testing than smaller vehicles. 
In order to pass this test, your vehicle must meet a number of requirements. For safety, emissions, and overall roadworthiness.
The cost of  MOT 5 class test can vary depending on the location of the test centre. But you can expect to pay anywhere from £60 to £100 for this type of test.
Importance of Regular MOT Testing
Legal requirement for regular MOT testing

Benefits of regular MOT testing for vehicle safety

Benefits of regular MOT testing for avoiding costly repairs

Penalties for not having a valid MOT certificate
Regular MOT testing is not just a legal requirement, it's also essential for ensuring the safety and roadworthiness of your vehicle. By testing your vehicle annually, you can recognize potential issues before they turn into significant safety hazards, and ensure that your vehicle operates at its optimal level.
In addition to the safety benefits, regular MOT testing can also help you avoid costly repairs down the line. By catching problems early, you can address them before they turn into more expensive issues that could require major repairs or even replacement.
Failing to have a valid MOT certificate can result in penalties, including fines and points on your driving licence. And of course, driving an unsafe vehicle without a valid MOT can also put you and other road users at risk.
What Does a MOT 5 Class Test Cover?
The MOT 5 test examines the same fundamental areas as the class 4 MOT test, but it targets larger passenger vehicles that can accommodate up to 16 passengers. The test includes checks of the vehicle's lights, steering and suspension, brakes, tires and wheels, seat belts, and emissions.
Common issues that are detected during a test : During a test, common issues that can be detected include faulty seat belts, worn tires, damaged suspension systems, and faulty brakes. Any of these issues can be dangerous if left unchecked, and can cause a serious accident if they are not repaired.
Examples of repairs that may be required after a class 5 MOT test : If any issues are found during a test, the vehicle owner will need to have them repaired before the vehicle can pass its MOT test. Common repairs for a vehicle may include replacing brake pads or tires due to wear, repairing or replacing damaged suspension parts, and fixing faulty lights or seat belts.
Choosing a Reliable MOT Test Centre
To ensure that your vehicle undergoes proper testing, it is crucial to choose a reliable MOT test centre. A reputable MOT test centre will have experienced. And They have qualified technicians. modern equipment, and a good reputation in the local community.
What to look for when choosing an MOT test centre : When choosing an MOT test centre, there are a few things to look for. First, make sure the centre is properly licensed and certified. You can do this by checking the government's MOT test centre database. Second, check the reviews and reputation of the centre online. Finally, visit the centre in person to ensure that it is clean, well-organized, and staffed by friendly and knowledgeable technicians.
Red flags to watch out for when choosing an MOT test centre : There are also some red flags to watch out for when choosing an MOT test centre. These include unlicensed or uncertified centres, centres that offer "cheap" or "discounted" MOT tests, and centres that pressure you into making repairs or buying additional services that you may not need.
Recap of the Importance of MOT 5 Class Tests
In conclusion, class 5 MOT tests are an important part of vehicle safety and legal compliance for larger passenger vehicles. Regular MOT testing can help ensure that your vehicle is safe to drive, and can prevent costly repairs and penalties for non-compliance.
Call to action for readers to book their test : If you own a class 5 vehicle, it is important to book your MOT test on time and with a reputable MOT test centre. Use the tips to help you choose the right centre. Must be ensure that your vehicle is safe and compliant on the road.

3 Important suggestion from "MK12 Autocare"

Before taking your vehicle for a test, it's important to double check with the garage . It will help you  that your vehicle is properly prepared.

The website 'www.gov.uk' has an interactive tool that guides users through the rules  what documentation they need to keep. This tool can be a valuable resourcefor their Class 5 MOT test.

To avoid missing the deadline for your Class 5 MOT test renewal. it's important to set up a reminder well in advance. You can achieve this through various methods. Such as setting up an alert on your phone or computer.  By setting up a reminder, you can ensure that you never miss the deadline for your MOT test.
In conclusion, the Class 5 MOT test is an important part of maintaining the safety and roadworthiness of your vehicle. And by choosing a reliable and reputable MOT test centre.  You can ensure that your vehicle is safe and legal to drive on the roads. Remember to also take advantage of the government's interactive tool. And set up a reminder for your test renewal date, to avoid any penalties or fines.