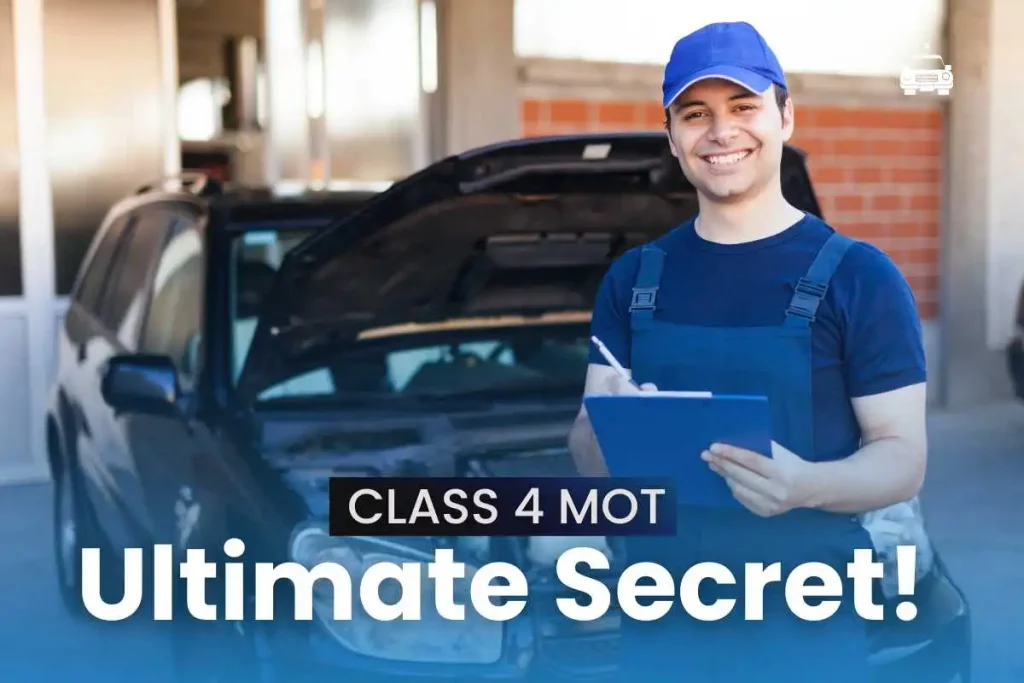 If you own a vehicle, you are required by law  to drive on the roads. One way to ensure that your vehicle is safe is by booking a class 4 MOT test. In this blog post, we will explore what a class 4 MOT test is, why it is important for vehicle safety and legal compliance, and what the test covers.
What is a Class 4 MOT Test?
Most vehicles over three years old need an annual MOT (Ministry of Transport) test to ensure they meet the government's minimum safety and environmental standards. The test aims to check if the vehicles comply with the required standards. A class 4 MOT test applies to vehicles with a gross weight of up to 3,000 kg, such as cars, small vans, and motorhomes. To pass a class 4 MOT test, your vehicle must meet a range of requirements, including emissions, lights, brakes, suspension, and steering. The test also includes checks for bodywork, mirrors, and seat belts. The cost of a class 4 MOT test can vary depending on the garage, but it typically ranges from £40 to £60.
Importance of Regular MOT Testing
It is a legal requirement to ensure that your vehicle has a valid MOT certificate. The certificate is issued after a successful MOT test and it must be renewed annually. If you are caught driving without a valid MOT certificate, you could face a fine of up to £1,000. Additionally, if your vehicle is involved in an accident and it does not have a valid MOT certificate, your insurance may be invalidated.
Regular MOT testing is important for vehicle safety as it ensures that your vehicle is roadworthy and meets the minimum safety standards set by the government. It can also help to identify any potential problems before they become serious and costly to repair. This can save you money in the long run and help to keep you and other road users safe.
What Does a Class 4 MOT Test Cover? 
A class 4 MOT test covers a range of checks to ensure that your vehicle is safe to drive on the roads. It's-
Emissions

Lights

Brakes

Suspension

Steering

Bodywork

Mirrors

Seat belts
During the test, the garage will also carry out an inspection of the vehicle's tyres, including the tread depth and condition. Common issues its during a class 4 MOT test include faulty brakes, worn tyres, and broken lights. If any issues are identified during the test, you will be provided with a list of repairs that need to be carried out before the certificate can be issued. 
Why need of reputable MOT test centre
 When picking an MOT test centre, it's vital to do your research :
Look for a centre that's certified and accredited by the DVSA, which conducts and regulates MOT tests in the UK.
Check the centre's reputation by reading reviews and feedback from previous customers.
Choose a centre that provides high-quality service, including modern equipment, well-trained technicians, and efficient processes.
Make sure that the price charged is reasonable and fair compared to other centres in the area.
Watch out for red flags that may indicate that the centre is not reliable or reputable.
Ensure that the MOT test centre displays its certification and accreditation.
Avoid centres with unfriendly, unprofessional, or unhelpful staff, as it may indicate poor customer service.
At Last We Want to Say :
  Recap of the importance of class 4 MOT tests :

In conclusion, a class 4 MOT test is an essential requirement for ensuring the safety and legal compliance of your vehicle. Regular MOT testing can help detect potential issues with your vehicle, prevent costly repairs and ensure that your vehicle is safe to drive on the road

  Call to action for readers to book their class 4 MOT test :

If you haven't had a class 4 MOT test recently, it is crucial to book one as soon as possible to ensure that your vehicle is safe and roadworthy. Choose a reputable and reliable MOT test centre and ensure that your vehicle meets the requirements for passing the test. Regular MOT testing is a legal requirement and essential for responsible vehicle ownership. Before taking your vehicle for a Class 4 MOT test, check with the garage to avoid common mistakes. Passing the test is crucial for roadworthiness and safety. If You feel Any Confusion Please You May contact with MK 12 Autocare Ltd
Why Double-Check with the Garage?
Firstly, Double-checking with the garage is important for several reasons. Firstly, it ensures that you have all the necessary paperwork and documentation that the garage requires before conducting the MOT test. This includes your vehicle registration certificate (V5C), your previous MOT certificate (if applicable), and any relevant service records. By double-checking beforehand, you can avoid any potential delays or issues that may arise due to missing documentation.
Secondly, double-checking with the garage allows you to confirm the date and time of your appointment. This is particularly important if you have made the appointment several weeks in advance. By confirming the details with the garage, you can ensure that you arrive at the right time and avoid any unnecessary waiting or delays.
Thirdly, double-checking with the garage gives you the opportunity to ask any questions you may have about the MOT test. By having this information beforehand, you can prepare yourself and your vehicle appropriately for the test.
Using the Interactive Tool on
www.gov.uk
The website www.gov.uk has a tool that guides vehicle owners. It helps them with the paperwork for a Class 4 MOT test. The tool shows them the rules and necessary documents. This helps owners avoid issues and delays.
Setting Up a Reminder for Your Vehicle's MOT Test Renewal Date :
To avoid missing your MOT test deadline, set up a reminder for your vehicle's test renewal date. This ensures you have time to prepare and avoid fines for driving without a valid MOT certificate. Don't forget this crucial step in keeping your vehicle roadworthy.