MOT testing is a mandatory inspection in the UK to assess the safety and roadworthiness of vehicles. It ensures that vehicles meet minimum standards for components like brakes, tires, lights, and emissions. If you want to  MOT Testing Guide Class 4, this content for you!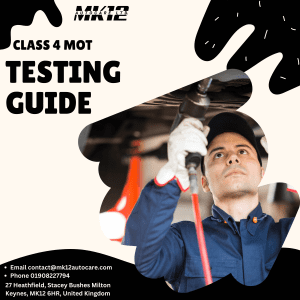 The significance of MOT testing for car safety and roadworthiness
In order to guarantee vehicle safety and roadworthiness, MOT testing is essential. It assists in locating potential flaws or problems that could jeopardise the vehicle's safety or present risks on the road by inspecting essential systems and components such the brakes, tires, lighting, and emissions. Regular MOT inspections help avoid accidents brought on by bad brakes, poor lighting, worn-out tires, or high emissions. It motivates owners to perform more frequent car maintenance as well as any urgent repairs or upkeep. MOT testing ultimately makes roads safer by maintaining cars in drivable condition and lowering the possibility of accidents brought on by faulty mechanics or poor upkeep.
MOT Testing Guide Class 4 : An Overview
The MOT testing framework includes Class 4 vehicles such as cars, motorhomes, and little commercial trucks. They can weigh up to 3,000 kg. Class 4 vehicle MOT testing entails a thorough inspection of many parts, including the brakes, tires, lighting, steering, suspension, exhaust emissions, and general condition. Their roadworthiness and safety must be ensured to the necessary standards outlined by MOT legislation. For Class 4 cars to continue to be reliable and safe overall, compliance with these regulations is essential.
Differences between Class 4 and other MOT classes
Class 4 vehicles, including cars and small commercial vans, differ from other MOT classes primarily in terms of size and weight. While Class 1-3 cover motorcycles, Class 4 focuses on vehicles with a maximum weight of 3,000 kilograms. Additionally, Class 4 vehicles undergo specific testing requirements tailored to their size and usage, ensuring their safety and roadworthiness. The distinct classification allows for more targeted inspections and considerations, addressing the unique characteristics and needs of Class 4 vehicles during the MOT testing process.
Essential Steps for Preparing Class 4 Vehicles for MOT Testing
Preparing for Class 4 MOT testing involves several key steps to ensure a smooth and successful inspection. It begins with selecting a reputable MOT testing center and gathering the necessary documents and paperwork. Conducting preliminary checks and maintenance on your vehicle is also crucial. This includes inspecting key components such as brakes, tires, lights, and ensuring proper functioning of steering, suspension, and exhaust systems. Adequate preparation increases the chances of passing the MOT test and helps identify and address any potential issues before the inspection, ensuring your vehicle is in optimal condition for testing.
What to Expect During Class 4 MOT Testing
During Class 4 MOT testing, you can expect a thorough examination of various components to assess the safety and roadworthiness of your vehicle. The testing process will typically include inspections of vital areas such as brakes, tires, lights, steering, suspension, exhaust emissions, and general overall condition. The goal is to identify any defects, faults, or issues that could pose risks on the road. The tester will conduct comprehensive checks using specialized equipment to ensure your vehicle meets the necessary safety standards set by MOT regulations. It is important to be prepared for this examination and address any potential issues before the test to increase the likelihood of passing.
Top Tips for Successfully Passing MOT Testing
Regular Maintenance: Prioritise regular vehicle maintenance and servicing to address any potential issues before the test.
Pre-MOT Inspection: Conduct a pre-MOT inspection or seek professional assistance to identify and rectify minor faults or deficiencies.
Check Essential Components: Ensure all lights, brakes, tires, steering, 
suspension, and exhaust systems are in proper working condition.
Know Class 4 Requirements: Familiarise yourself with the MOT testing requirements specific to Class 4 vehicles and address any known issues promptly.
By following these tips, you can improve the likelihood of a successful MOT test and ensure your vehicle meets the necessary safety standards.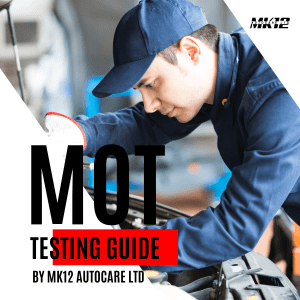 Failing MOT Testing: What to Do Next
 Understanding the reasons for failure:

If your Class 4 vehicle fails the MOT test, it is crucial to understand the specific reasons for the failure. The test center should provide a detailed report highlighting the failed components and areas of concern.

 Receiving a refusal certificate:

Upon failing the MOT test, you will receive a refusal certificate. This document outlines the reasons for failure and serves as an official record. Keep this certificate safe, as it will be necessary for further actions.

 Rectifying failed components and retesting:

After identifying the failed components, it is essential to address and rectify them. Seek professional assistance or perform necessary repairs to fix the identified issues. Once the repairs are complete, you can schedule a retest to have the vehicle reassessed and obtain a valid MOT certificate.
By understanding the reasons for failure, obtaining a refusal certificate, and taking appropriate measures to rectify the failed components, you can work towards achieving a successful MOT test and ensuring your Class 4 vehicle meets the required safety standards.
Ensuring Compliance with MOT Regulations for Class 4 Vehicles
Ensuring compliance with MOT regulations for Class 4 vehicles is vital. This includes following the specified test frequency, keeping records, and staying informed about any updates. By doing so, you ensure the safety and reliability of your vehicle while avoiding potential penalties.
In conclusion, Class 4 MOT testing is crucial for vehicle safety and roadworthiness. By adhering to the requirements and prioritizing regular testing, owners can ensure compliance and promote safer roads. If you are searching a best  MOT Test service Centre In Milton keynes . MK12 Autocare Ltd is one of the leading MOt Test Station In Milton Keynes